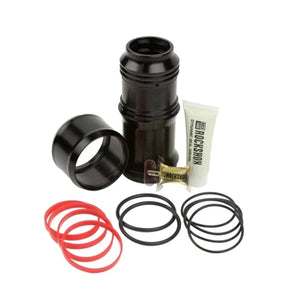 ION² Progression-Suspension's Top DIY Products
BY
JENNIFER BAKER
    Mar 7, 2022
Are you a few kilometers overdue for an oil change? Holding your breath, hoping to make it to the shop before the check engine light comes on? Aren't we all? But owning a vehicle means setting time and money aside for maintenance. Sure, you can push it off, but eventually, the wear and tear of moving parts will catch up with you. And the result of avoiding regular maintenance is, more often than not, a high repair bill. The same is true for servicing mountain bike and motorsport suspensions. Timely maintenance saves money. With new forks costing upwards of $1,000, it's better to save for an exciting upgrade, like this awesome Fox 38 Factory GRIP2, than burn through your bankroll on dreaded repairs.   
Luckily, proactive care is an easy way to save money. To keep your suspension riding smoothly in between services, follow these three recommendations from ION² Progression-Suspension:
Bathe Your Bike -

Clean your suspension after every ride. No need to use damaging solvents, soap and water will suffice. Rinse and wipe dry with a soft cloth. 
Survey for Scratched Stanchions -

Bombing through a puddle with scratched-up stanchions is not something you want to do. This is a surefire way to allow dirt to get inside of your fork.
Mount a Mudguard -

Mudguards like this

Helm Fender

will protect your fork from dirt and debris. 
Caring for your investment will help to make sure that your fork and shock are performing at their best. By mid-season though, your suspension will need a 50-hour service. Some are more comfortable leaving their bike maintenance to the professionals. ION² Progression-Suspension makes it easy to book a service with their online form that allows you to drop off your suspension in person or by mail. Other people, however, enjoy working on their suspensions and can do so with ION²'s top-selling DIY suspension products. 
Price $79.99
No special tools are needed for RockShox's Deluxe 50 hour service kit, which allows you to service your rear shock with the included air can seals, piston seal, and glide rings. Compatible with Deluxe and Super Deluxe shocks. 
Price $134.99
The MegNeg air can upgrade kit is a great option if you're looking to increase spring force in the middle of travel. RockShox's MEGNEG air can has more tunability and a larger negative volume. The kit is for Deluxe and Super Deluxe shocks and includes the air can, tokens, seals, and decals. 
RockShox's service and MEGNEG kits are perfect at-home options for the mechanically inclined DIYer. If you would rather ride your bike than work on it, that's cool, but you should still know how to set up your suspension properly. Setting sag (the amount of suspension compression to rider weight) is an easy DIY adjustment that will allow you to get the most out of your suspension. Learn how by watching this video from Fox. 
For more popular DIY products, like these Fox Low Friction Fork Seals, visit ION² Progression-Suspension. If you don't feel confident enough to work on your own bike, don't worry. ION² has over two decades of experience. They complete all of their work with meticulous detail and a guarantee that you will see and feel the difference in your suspension.  
---