Mountain Bike Fork Upgrades
Looking to get the most out of your front fork? Take a look at our upgrades list below to find out how we can take your current suspension to the next level. Please note all prices are for individual components only, install charges are extra. For more information on service costs, please see our price list here. 
FOX FORK UPGRADES: 
Fox GRIP2 Damper: Grip dampers found in Fox Performance series forks use single stage compression and rebound that controls dampening across the entire travel range. The Grip2 damper separates the rebound and compression circuits allowing the rider to fine tune the suspension to behave differently based on the type terrain they're riding. Want great small bump sensitivity without sacrificing mid stroke support? Grip2 dampers can help you achieve the best of both worlds without having to compromise your ride feel. 
Fox Fit4 Damper: 
Much like the Grip2 damper, Fit4 four dampers allow for increased tuning for customizing the trail feel. Like the Grip damper found in Fox Performance series forks, Fit4 dampers come with a single stage rebound. The overall feel of the fork is controlled with a three position switch with Open, Mid, and Closed settings, and a low-speed compression selector for fine tuning the small bump compliance and ramp from rider input. 
Fox VVC Grip2 Compression Assembly:
Fox VVC or "Variable Valve Control" adds support during high-velocity impacts while leaving the overall shock tune supple for the best of both world. Additionally, the assembly also has a low speed compression adjuster for fine tuning forces from the rider's input. This component comes as part of the Grip2 featured on Factory and Performance-Elite series forks but can be purchased separately and added to Performance series dampers. At less than half the cost of a Grip2 damper, this upgrade has one of the greatest smiles-per-dollar for your OEM fox fork when in comes to maximizing control and tunability.
Please note assembly doesn't include adjustment knobs. They can be purchased separately here. 
Fox 36/38 Pressure Release Valves: 
Bleeder ports allow for atmospheric pressure equalization for better fork performance, allowing full travel to be achieved and increasing small bump sensitivity and responsiveness. Kit comes with release valves, crush washers and protective covers. 
ROCKSHOX FORK UPGRADES: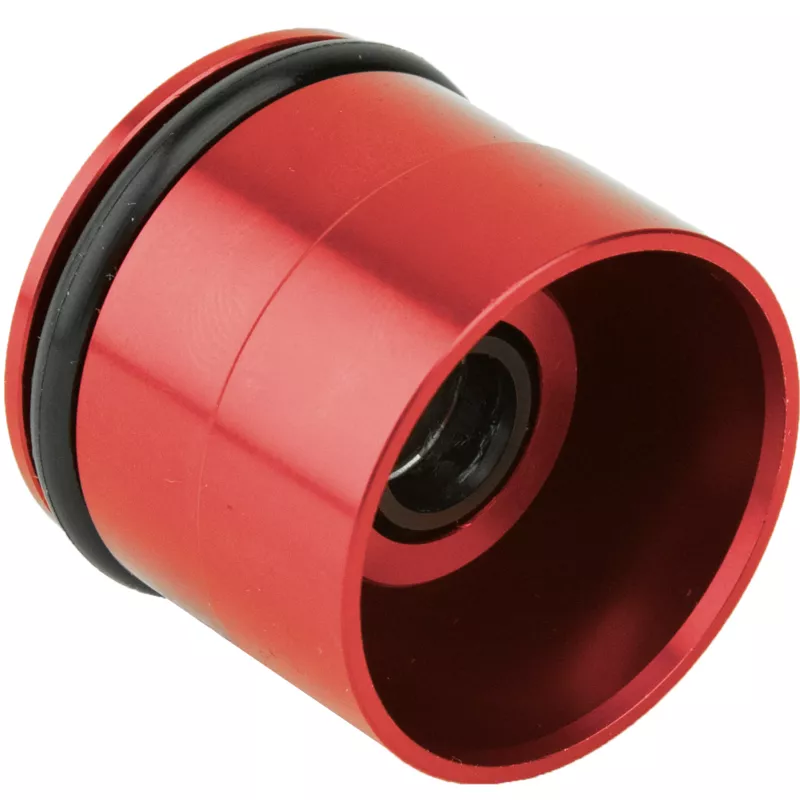 Debonair Sealhead for Rockshox forks: The Debonair Sealhead is a retrofit that can be made on existing Rockshox air pistons to increase the volume of the negative air chamber. This increased the small impact compliance of the fork while adding some additional mid-travel support. The sealhead upgrade is available to most 35mm stanchion Rockshox forks, such as the Pike, Lyrik and Yari. 
Rockshox Charger 2.1 Damper: 
Compared to the Charger 2.0 damper, the Charger 2.1 separates the high and low speed compression circuits to increase the tunability and maximize a fork's control. With the Charger 2.1, the fork is able to ride higher in its traction for increased confidence while maintaining traction over fast, technical flow features.
Have a Rockshox fork that's older than 2018? Give us a call or contact us via email so we can make sure a Charger 2.1 fork is compatible with your fork. 
Rockshox Charger 3 Damper: 
Designed from a blank sheet of paper, the new Charger 3™ is reinvented and features a completely new Internal Floating Piston (IFP) design with better fidelity, performance and truly independent adjustments without any "cross talk". Featuring High Speed Compression, Low Speed Compression, and a revamped Low Speed Rebound, every click is meaningful and exact. This dead silent design allows the rider to truly tune to perfection with every click.
AIR SHAFT ASSEMBLIES (Fox & RockShox): 
Looking to change the travel of your front fork? Most frame manufacturers allow for plus or minus 10mm of travel change without sacrificing the frame's structural integrity or the ride quality of the bike. Increasing front fork travel has the added benefit of slacking the headtube angle for increased stability at higher speeds, while decreasing the front travel make the headtube and seat tube of the bike steeper for better climbing and snappier handling. Depending on the air piston, newer pistons can increase small bump sensitivity, making the bike ride extra plush over successive small impacts like roots and brake bumps. 
Pricing for Complete Air Piston Assemblies:

**Please contact us with the serial number of your fork and model of the bike for more detailed information on compatibility of air pistons with with specific fork and frame options. For Fox 32 and 34 StepCast Models, please contact us via email at service2ion2suspension.com for more information.  
AFTER MARKET UPGRADES:
Vorsprung Luftkappe: Airspring progression is most often accomplished by the addition of volume spacers on top of the air piston to help the fork "Ramp" faster for better mid-stroke support. Unlike volume spacers, the Luftkappe increase the volume of the negative chamber while reducing the volume of the positive chamber. This allows for the mid-stroke support of volume spacers with coil-like small bump sensitivity that also helps with reducing hand fatigue over long days of riding. 
Vorsprung Secus: The Secus aspires to deliver an air spring with a truly better spring rate, everywhere in the travel for a truely coil-like ride feel. The Secus upgrade delivers the first and only air spring system to really come indistinguishably close to the linear spring rate of a coil fork for the entire first 2/3rds of its travel, with the advantage of a gentle end stroke progression to prevent bottoming without the "wall of force" harshness that excessively progressive springs create.
Vorsprung Smash Pot: Presenting the Smashpot - a fork coil spring conversion system for single crown enduro forks, featuring externally adjustable hydraulic anti-bottoming technology to deliver precisely the amount of bottoming resistance you need. The benefits of coil are clear: if your first priority for your fork is outright performance and grip, get yourself a Smashpot. 
Tuning, Lubricants & Seals: Mass produced suspension products are designed to fit the needs of the majority of riders. With some riders falling outside the norm with respect to kitted-weight and suspension application, changing shock tunes can have a dramatic effect on the overall performance of the suspension. Additionally, we use high end Motorex lubricants and go out of our way to find the highest quality seals for our fork service, which makes regular maintenance and valve tuning two of the most important upgrades you can make to your suspension for unparalleled ride quality.